Adult Leader Training Courses
FAST START TRAINING- The initial training for all leaders in all programs. It is a quick job description with basic tips to manage until training is available. This training is available online.




THIS IS SCOUTING!-(Formerly New Leader Essentials) Designed for all volunteers and provides the basics of the Scouting programs, the age appropriateness of those programs, and our values and methods. This training is available online.
CUB SCOUT LEADER POSITION-SPECIFIC TRAINING has been developed to give new leaders the knowledge and skills, as well as generate the enthusiasm, they need to be successful. Training is offered for your specific position and is offered in each of our districts. Check your district's calendar for more info.
Cubmaster

Tiger Cub Den Leader

Cub Scout Den Leader

Webelos Den Leader

Pack Committee Chair and Member

Training for the Pack Trainer
SCOUTMASTER AND ASSISTANT SCOUTMASTER LEADER SPECIFIC TRAINING: For Scoutmasters and assistant Scoutmasters, this training is divided into three parts. The three parts concentrate on troop operation and can be completed in one full day or three evenings. The course is offered in each of the nine districts. Check your district's calendar for the next scheduled course.
INTRODUCTION TO OUTDOOR LEADER SKILLS (ITOLS)- Outdoor skills are critical to the success of the Scouting program, and Introduction to Outdoor Leader Skills will provide leaders with the basic outdoor skills information needed to start a program right. Introduction to Outdoor Leader Skills is the required outdoor training for all Scoutmasters, assistant Scoutmasters, and Varsity Scout coaches. The skills taught are based on the outdoor skills found in The Boy Scout Handbook. The course is also ideal for Venturing leaders because it focuses on skills that build confidence and competence in leaders conducting outdoor camping experiences. The course is a weekend event.
VENTURING LEADER SPECIFIC TRAINING- Developed for Venturing Advisors, assistant Advisors, and crew committee members, this training incorporates Venturing's current adult leader training. New Leader Essentials and Venturing Leader Specific Training can be completed in one day, after which the leader is considered to be trained.



TROOP COMMITTEE SPECIFIC TRAINING- This position specific training for Troop committee chairman and members is called The Troop Committee Challenge. Completion of this course and This is Scouting! is required to be considered trained. This course is available online.


YOUTH PROTECTION TRAINING- The Boy Scouts of America has developed Youth Protection training to prepare its leaders to help children who have been, or are being abused. Materials are for use in pack and den meetings to show Boy Scouts and their parents what they should do to prevent abuse from happening to them. This course is available online.

Supplemental Training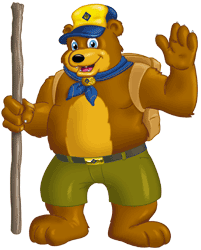 BASIC ADULT LEADER OUTDOOR ORIENTATION (BALOO)- Basic Adult Leader Outdoor Orientation is a one-day training event that introduces the skills needed to plan and conduct pack outdoor activities.
Preparations for camping with Cub Scouts

Introduction to outdoor skills
OUTDOOR LEADER SKILLS FOR WEBELOS LEADERS- Designed specifically for Webelos den leaders and their assistants, this course teaches outdoor-related skills through demonstration and hands-on practice. It is a weekend course.
CUB SCOUT LEADER POW WOW- The pow wow is a fun filled day for pack leaders that provides an opportunity to attend sessions addressing various facets of the Cub Scout program.
POWDER HORN- High-adventure resource training designed to introduce and expose Venturing and Boy Scout adult unit leaders to the activities and resources necessary to operate a successful outdoor/high-adventure unit-level program.
Den Chief Training: A Den Chief is a Boy Scout whose assigned leadership position is to assist in a Cub Scout Den. A one day council level training is offered. Online Course
TRAINER'S EDGE- NEW! The Trainer's EDGE replaces the Trainer Development Conference (BSA 500) as the required train-the-trainer course for Wood Badge and NYLT staffs. It is meant to supplement the practice offered through Wood Badge and NYLT staff development, with a focus on the participant, while raising the level of skill a trainer brings to the staff experience. Only practice can polish these skills, but this course is intended to "train the trainer" on behaviors and resources while offering hands-on experience in methods and media.
WOOD BADGE FOR THE 21ST CENTURY- Wood Badge has evolved into the core leadership skills training course for the BSA. The new Wood Badge course focuses on strengthening every volunteer's ability to work with and lead groups of youth and adults and is less focused on outdoor skills, which are more effectively addressed in other courses. Please visit our Wood Badge page for more specific information.
Generational Diversity -Please click on the image below and you will be guided through an online generational diversity course to gain a better understanding of the different generations we interact with.
Click Here
The PHILMONT TRAINING CENTER located in Cimmarron New Mexico is the National Training Center for the Boy Scouts of America. Each summer and fall the center offers a catalog of courses to enhance the abilities of scout leaders. To learn more about the Philmont Trianing Center click the underlined words to read an article in Scouting Magazine. which will take you to a link to their 2009 catalog of courses.