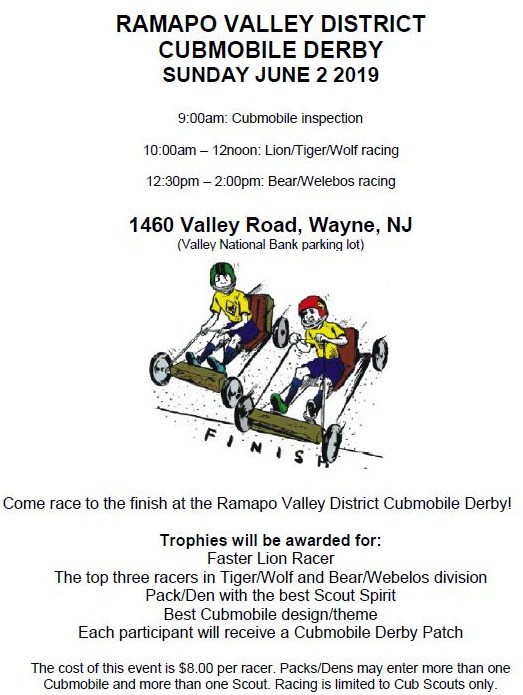 ---
Ramapo Valley District Recognition Dinner
June 5, 2019, 6:30pm
$44 per person (w/ cash bar)
Barnyard & Carriage House
754 Totowa Road
Totowa, NJ
One Door Prize of Autographed New York Giants Football
Must Be Present To Win
The Ramapo Valley District, NNJC Boy Scouts
is pleased to announce the following
2019 Recognition Recipients
Spark Plug Awards
Kevin Topp Troop 157
Theresa Hogan Pack 21
Catherine Scott Troop 159
Kieran Barrett Troop 31
James Petrecca Troop 192
Lisa Pisano Pack 54
Michael Pisano Pack 54
Susan Depasquale Pack 197
Laura Behrmann Pack 306
Howard Faddis P258
Venturing Awards
Leon Wiser, Associate Advisor of the Year, Crew 192
Cub Scout Awards
Naz Siddiqi, Tiger Den Leader of the Year, Pack 54
Amy Haggar, Tiger Den Leader of the Year, Pack 306
Jennifer Howard, Tiger Den Leader of the Year, Pack 258
Susan Mc Hugh, Bear Den Leader of the Year, Pack 306
Katie Muser, Bear Den Leader of the Year, Pack 306
Doug Edler, Bear Den Leader of the Year, Pack 140
Yolanda Sun, Bear Den Leader of the Year, Pack 258
Glen Dabaghian, Webelos Den Leader of the Year, Pack 306
Lisa McGrath, Webelos Den Leader of the Year, Pack 306
Girelle Grunfelder, Webelos Den Leader of the Year, Pack306
Melissa McKay, Webeleos Den Leader of the Year, Pack 258
Dave Zampino, Assistant Cubmaster of the Year, Pack 258
Tom McCarthy. Cubmaster of the Year, Pack 258
Karina Ferrales, Cubmaster of the Year, Pack 54
Philip Clella, Cubmaster of the Year, Pack 197
James Koppenel, Cubmaster of the Year, Pack 108
Debra Peluso, Committee member of the Year, Pack 26
Lindsey Colella, Committee Member of the Year, Pack 197
Ranae Adee, Committee Member of the Year, Pack 306
Andrew Dany, Committee Member of the Year, Pack 258
Boy Scout Awards
Nicholas Salleroli, Committee Member of the Year, Troop 159
Martin Apa, Committee Member of the Year, Troop 192
Phil Surico, Committee member of the Year, Troop 50
Christopher Tully, Assistant Scoutmaster of the Year, Troop 192
John Kelly, Scoutmaster of the Year, Troop 104
Dr. Henry Madalihn, Scoutmaster of the Year, Troop 108
Unit Commissioner of the Year
Anthony Karoleski
Unit Pillar Award
Michelle Crowe-Paz, Pack 258
Paul Suszcynski, Troop 192
Trail to Eagle Advisor Award
Michael Israel
Riley Horton
Michael Mertens
Popcorn Machines
Pack 110 Wyckoff $58,374
Pack 70 North Haledon $18,870
Fred Bauer Camp Stewardship Award
Geoffrey Garlick
Alan "Doc" Swartz Award for Training Excellence
Walter Robinson
District Award of Merit
Marissa Sikder
William Langner
Harris Reinstein
---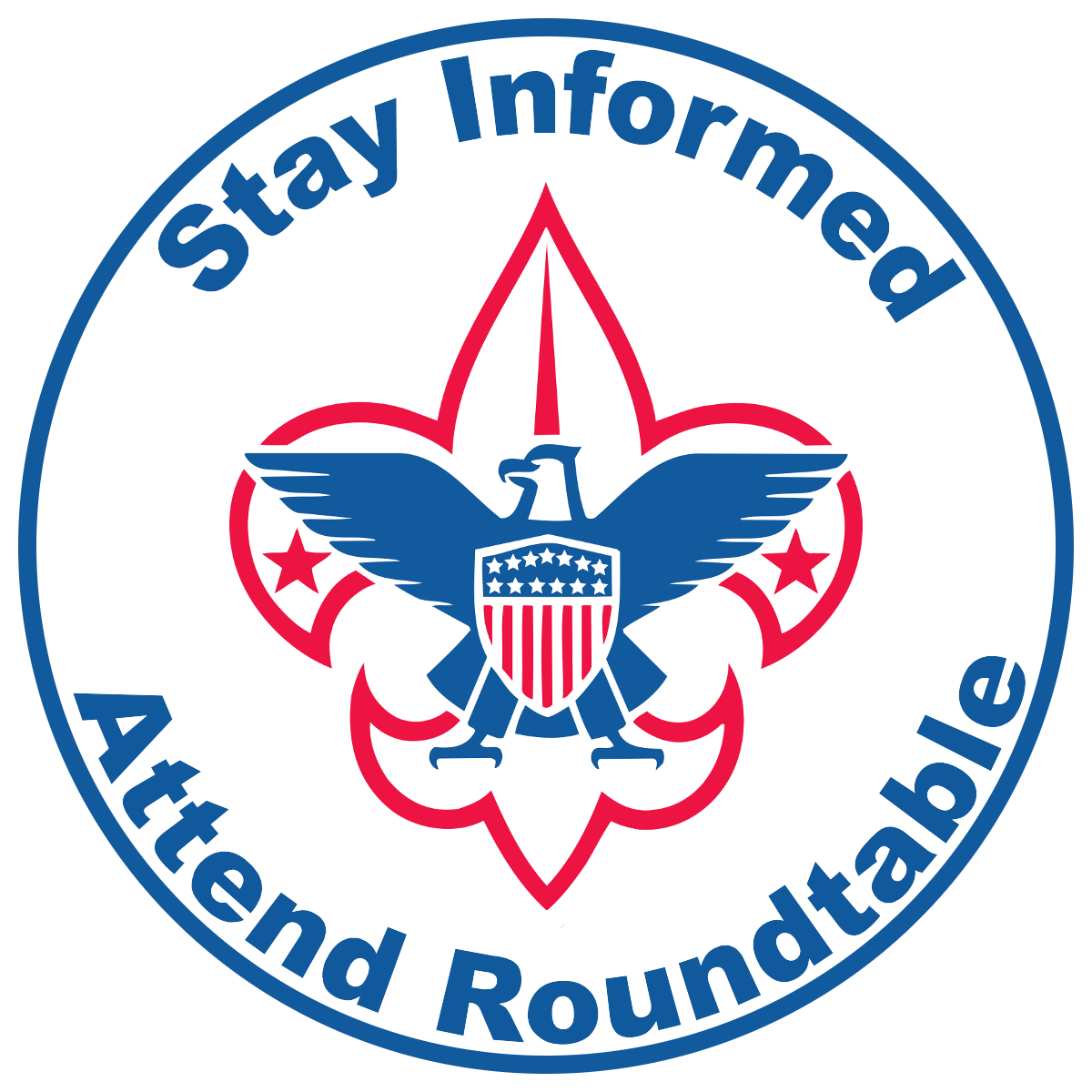 May Roundtable
Well, it's that time of the year – the final countdown to the end of school and getting ready for summer! Ahhh, summer, kids home from school, fun in the sun, vacations, summer camp and getting ready for next year's Roundtables. Next year's Roundtables? Seriously? Yes, that's some of what John, Stacey and Bill will be doing over the summer – but we need your help. Please bring your ideas to the meeting so we can make sure we are hitting the areas you want to know about.
For our Cub Roundtable, join us for a discussion about Family Camping Skills. We will talk about BALOO and IOLS - what they are and how they are valuable for Cub Leaders. We will also discuss aspects of the "outing" of sc"outing" which are particularly applicable to Cub Scouts and their families.
We'll be discussing Board of Reviews at the Scouts Roundtable. What are they about? When do we hold them? Is there a right or wrong way to hold one? How can you make the most of them and make sure the scout is getting the most out of it? Is the troop learning something? We'll talk through these thoughts and learn something along the way.
Reminder, the Ramapo Valley District Roundtable's permanent home is:
Pompton Reformed Church
59 Hamburg Turnpike, Riverdale, NJ
Bill Langner Stacey Butler
Scout Roundtable Commissioner Cub Roundtable Commissioner
---
CANNONBALL HISTORIC TRAIL MEDAL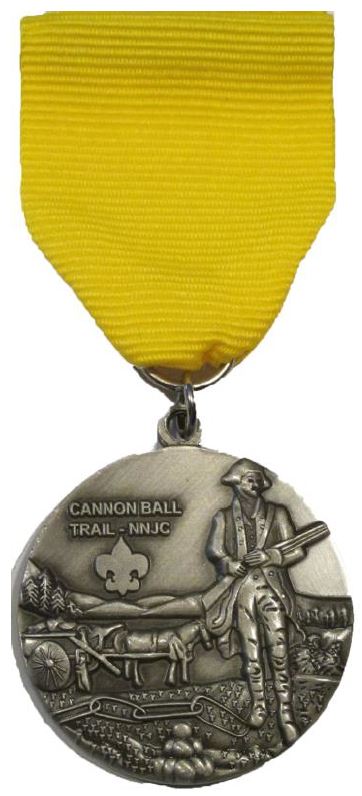 CLICK ON THE MEDAL FOR MORE INFORMATION!
---