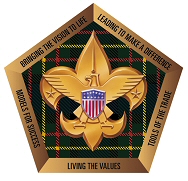 ANNUAL GILWELL "DINING-OUT" BRUNCH
Special Guest Speaker: Hab Butler. Our BSA Regional President and a Charter Member of the Wood Badge for the 21st Century design team.
Saturday, January 12, 2013, 8:00 am- 11:00 am
$25.00 per Wood Badger
$20.00 per Non Wood Badge Guest
$10.00 per Child
William Paterson University
University Commons Multi-purpose room near Zanfino Plaza
Wayne, NJ
(Note – this is on the Main Campus! Not the Valley Road extension as previously advertised)

Register online: http://www.nnjbsa.org/event/1227469
The idea of a "Dining-Out" was adopted many years ago by the British Army and is a
long standing tradition in regimental messes. Lt. General Robert Baden-Powell, the
Founder of Scouting, retired from the British Army in 1910, most likely participated in
many social Dining-Out events, which are open to non-members, including spouses and
friends.
There will be a Wood Badge Beading presentation to some Wood Badgers who have completed their tickets from course N7-358-11-1 (and there's room for more!)
There will also be a Silent Auction to benefit the Wood Badge Scholarship fund
All of the money raised from the silent auction goes towards Wood Badge scholarships that are available for both Northern New Jersey Council Scouters and Patriots' Path Council Scouters. Having scholarship funds available can make a difference in a Scouter's ability to take the course. So if you have anything you would like to donate to the silent auction, please let Randi know (grendelbear@gmail.com) so she can prepare a write up about your donation, then you should bring the item with you to the Dining Out. It doesn't have to be Wood Badge or Scouting related, just something other Scouters will bid on to increase our Wood Badge scholarship fund.
Non-Wood Badgers, Wood Badge "critters" and guests (from any council) are invited to join us for fun, food and fellowship. Bring a Scouting friend who wants to learn more about Wood Badge!