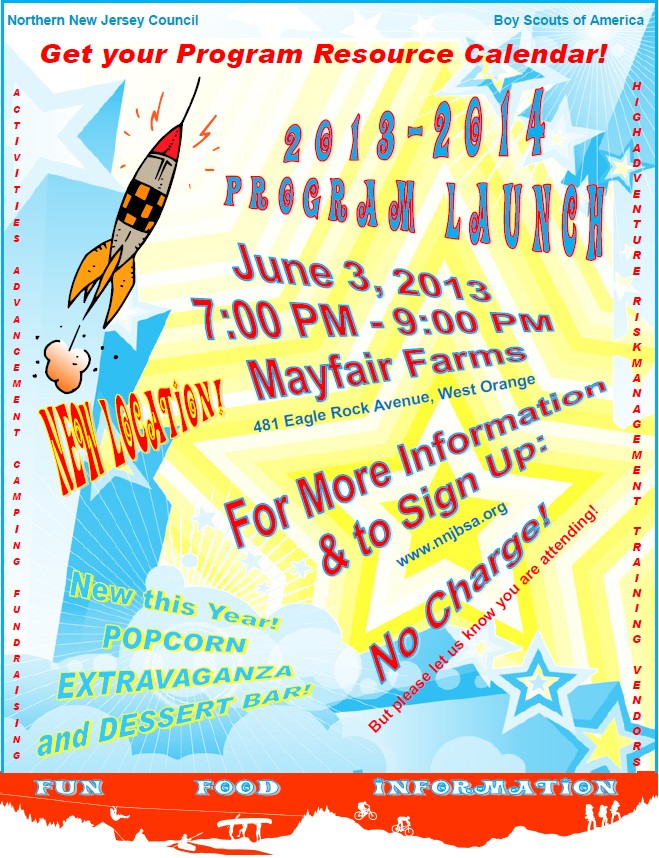 RSVP Online- Follow the "Register" Link Below
It's Time to Start Planning Your Most Outstanding Popcorn Sale Ever!
Spring is the best time to start planning your Fall 2013 Popcorn Sale. Our most successful units always start planning in the Spring to ensure everything is on track. Here are some key Popcorn tasks you should be working on:
Identify a Popcorn Kernel for your Unit and let us know you will be participating. You can use the link at the bottom of this email.

Select the date of your Unit Kickoff. This should be a stand-alone meeting at the end of the summer to help build excitement about the sale.

Start thinking about Unit incentives. Come up with a unique top seller prize for your unit and smaller incentive for other categories.

Start thinking about your program for next year and what it will cost so you can set a popcorn goal.

Identify and book locations for Show & Sell.
POPCORN EXTRAVAGANZA (June 3rd, 7:30 pm, Mayfair Farms) is the Kickoff for the 2013 Fall Sale and it is VITAL that you be represented… your unit will be able to earn the highest level commission by attending, but more importantly you will receive ALL the information you need to plan your BEST POPCORN SALE EVER! Sign up now, online today Click Here. Join us for the latest information, fun presentations, door prizes and the fabulous Mayfair Farms Dessert Bar!
As always, we are committed to helping you be successful with your Popcorn Sale. Let us know if you have any questions, or if we can be of any assistance as you start planning for Fall 2013!