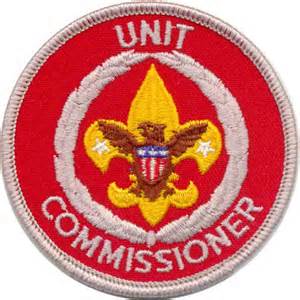 Unit Leaders and Chairs,
We are looking for a volunteer from your unit to be your unit commissioner!
To kick off the Unit Commissioner Drive, the Ramapo Valley District will be holding a Unit Commissioner Orientation Meeting on Saturday, March 29th at the Council Service Center in Oakland from 9 to 11am.
We need your help identifying and recommending an individual from YOUR unit to fulfill a vital link...the "liaison role" between your unit and our expanding scouting organization.
Every unit needs to send one representative to attend the meeting this weekend to represent your Pack, Troop, or Crew.
The commissioner is a representative. The average unit leader is very occupied working with the unit's youth. Some have little if any contact with the Boy Scouts of America other than a commissioner's visit to their meeting. To them, the commissioner may be the BSA. The commissioner helps represent the ideals, the principles, and the policies of the Scouting movement.
Your Unit Commissioner would assist with the 4 following objectives:
·

Use the UVTS on-line system and report monthly to your Assistant District Commissioner on unit status.

·

Support On-time Unit Charter renewal.

·

Support sustainable relations between the Unit, District and Council. The unit commissioner is the liaison for our "One Family" drive.

·

Actively support unit membership growth by assisting the communications between the Unit, District, and Council.
Again, thank you for taking the time and assisting Scouting through your active participation in finding a Unit Commissioner for your Pack, Troop, Crew, Ship or Post.
We look foward to seeing your unit represented at the Unit Commissioner Meeting this Saturday, March 29th at the Council Service Center in Oakland from 9 to 11am.
In Scouting,
Wayne Wharton
Ramapo Valley District Commissioner