Summer Camp at Camp Turrell
WINTER, SPRING, SUMMER & FALL CAMP TURRELL HAS IT ALL!!!
Camp Turrell has been the ultimate site for Boy Scout camping for over thirty five years. The camp is located in the foothills of the Catskill Mountains. With easy access to the Delaware River and other local attractions, Camp Turrell is perfectly located to offer a well-rounded challenge second to none, for Boy Scout Troops, Venture Crews, and Sea Scout Ships. And with excellent sailing on our 95-acre lake and extensive mountain biking trails, Camp Turrell offers a great program on the trails and rivers as well as in camp.
2015 Camp Turrell Dates
Week #1: June 28 - July 4
Week #2: July 5 -11
Week #3: July 12 -18
Week #4: July 19 - 25
Week #5: July 26 - August 1
2015 Fees:
Early Bird Fee: $395 per scout (registrations received prior to April 15th)
Standard Fee: $445 per scout (registrations received after April 15th)
Leaders Fees—$125 per leader -the minimum number of adult leaders required to meet national state and local standards are free (2)
Leaders Fees = the minimum number of adult leaders required to meet national
state and local standards are free (please see your camp leaders guide for specific
requirements); each additional leader beyond the minimum required is $125.00
per session. Certified Webelos Crossover attend at early discount rate
---
The Staff of Camp Turrell
Our trained, experienced staff will make sure that your stay at Camp Turrell will be enjoyable yet challenging. They strive to help each camper develop character, leadership and a strong sense of duty to family, God, community and themselves.
The staff knows that a happy camper is warm, dry, clean and well fed. The staff will work hard to make sure that your unit is happy and comfortable. Our staff will be hand picked and of the highest caliber. And as always, our key staff will be BSA National Camping School trained and certified.
Facilities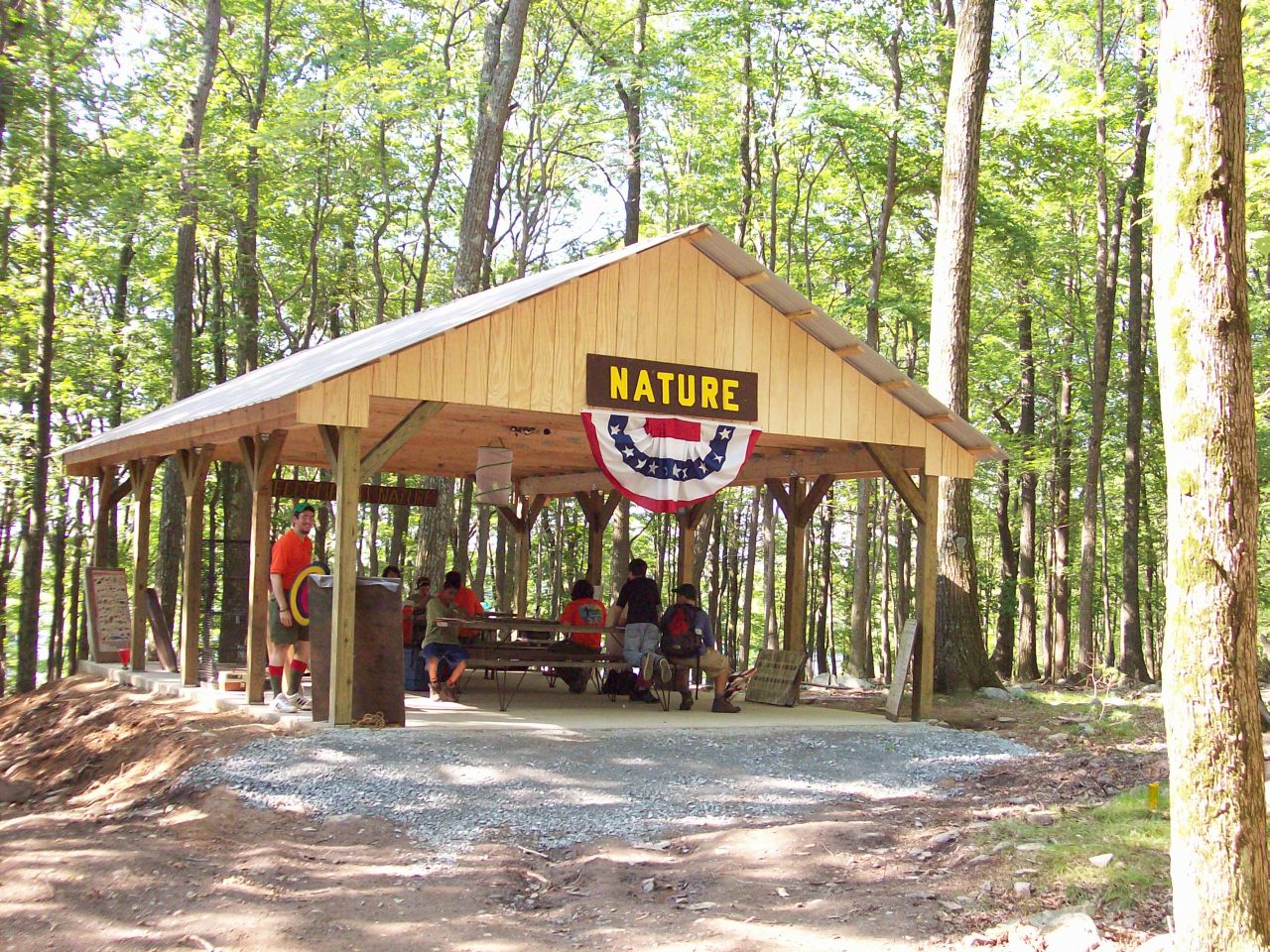 The base is located in the foothills of the Catskills in Cuddebackville, NY, just north of Port Jervis. The reservation is over 795 acres and has a 95-acre lake. All of our facilities are inspected and certified by the BSA and the State of New York.
Camp Turrell can easily accommodate coed groups. Unit sites have two-person tents with cots. Each site has a latrine, washstand, picnic table and dining fly. There is a newly constructed central hot shower house with individual stalls. A large sports field, basketball court and volleyball court is available for unit and inter-unit competition. There is also a newly constructed Nature and First Year Camper Pavillions located in camp
Health and Safety
Our main concern is safety from the trails to the waterfront to the campsites. Our resident EMT mans our recently constructed health lodge 24 hours a day. Physicians are on call 24 hours a day and arrangements are made with nearby hospitals for higher care if needed.
Meals At Camp Turrell
In order to allow your unit to have a wide range of camping experiences, Camp Turrell offers two options for meals during your stay. You can choose to eat in the newly renovated dining hall or you can cook and eat meals in your site. Cooking as a partol is a great program that Camp Turrell has to offer. Cooking in your site gives your troop and the scout:
LEADERSHIP, RESPONSIBILITY, AND THE ABLITIY TO WORK AS A TEAM!!!
These are all great traits and characteristics that one can learn by spending a week or two at CAMP TURRELL
The choice is yours, but we do ask that you plan your meals with us prior to your attending camp.
Special Programs
Merit Badge Program - Traditional and some not so traditional merit badges are offered in our program areas. Our areas include: Aquatics, Field Sports, Handicrafts, Nature, Scoutcraft and Shooting Sports.
Sailing - Scouts can take part in our small-boat and catamaran sailing programs as well as windsurfing and other water sports. Basic seamanship skills are taught by our aquatics staff and you can test your skills with our large fleet of sailboats.

X-TREME SPORTS- Our X-Treme sports program consists of Mountain Biking and our Climbing Program. We have a 20, 30, 40 and 70 Ft natural rock walls

Mountain Biking - For individual Scouts 13 and over, or as a unit activity for all ages. The mountain biking program has recently been expanded to provide more cycling time, more trails and new challenges. You can bike for fun or to start on your Cycling Merit Badge requirements (which can now be used as a required badge for Eagle Scout). Many new trails have been designed to increase the fun and adventure.

Pathfinder (First-Year Camper) Program - For Boy Scouts new to the camping experience. This program helps them become acclimated to camp life. It also starts them our on their requirements for Tenderfoot, Second Class and First Class during their stay.

OA-DAY- At Turrell Wed is OA-Day. This is a day when OA members get a chance to wear their sash throughout camp to show their pride of being involved in the Order Of the Arrow. We also have a call out ceremony and any ordeal member that are ready to become brotherhood can take part in our Brotherhood Ceremony following the call-out.
---
PROJECT

"SOARING EAGLE"



a.k.a Trail to Eagle Program
ONLY OFFERED WEEK 5,
Must Be A Star Scout
Project Soaring Eagle program at Camp Turrell is designed to give your older scouts an opportunity to continue working on merit badges while at camp in order to encourage them on their "Trail to Eagle".
Project Soaring Eagle is designed to have merit badges running at specific times, which will often conflict with other camp merit badges. This is unavoidable, and scouts who choose Project Soaring Eagle must realize this. In addition, scouts will not necessarily be able to finish these badges while at camp. However, with proper pre-camp work, many can be completed.
Boys taking part in the Project Soaring Eagle program will be put into an Eagle provisional patrol that they will work together as a team for the whole week.
Fee total:

Camp Fee + $30.00
This extra fee will include your provisional scoutmaster and the purchase of your completed merit badges along with a personalized "Camp Turrell Project Soaring Eagle Framed Certificate", and a Project Soaring Eagle Tee-Shirt.
---
For short term and summer camping information, directions and applications, contact the NNJC Camping Division at the Council Office at (201) 677-1000.