Camp Director - Joe Mertens
Joe is an Eagle Scout and member of the Vigil Honor from Ridgewood, NJ. He is entering his 7th year at Camp Lewis, 5 of which have been as a member of the Administration Team, and has been a part of both the Camp Lewis and Camp Yaw Paw leadership.
Having taught 3rd through 5th grade in his hometown, Joe will be joining the NNJC professional staff after camp concludes in August, will be the new 3 Rivers District Executive.
Joe has been to the National Camping School twice for Cub Aquatics and Camp Administration certifications, and currently holds Red Cross Lifeguard, CPR for the Professional Rescuer and First Aid certifications. Joe is also a Woodbadger, section N7-333-12, and was a member of the Fox patrol.
Program Director - Matt Dalzell
Matt is an Eagle Scout from Troop 86 Lyndhurst and a Vigil Honor member of Lenapehoking Lodge IX. He is beginning his 11th summer at Camp Lewis, four of which as Waterfront Director and the six years prior as Archery Director. He is currently an Assistant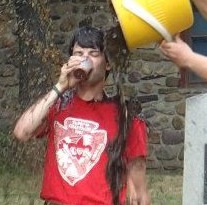 Scoutmaster of Troop 86, member of Venture Crew 1444 Jersey City, and involved in various Order of the Arrow and Training teams.
During the year, Matt is a middle school teacher of Mathematics and Science at Sacred Heart in Lyndhurst.
Matt has been to National Camping School in the Aquatics Director section, and is part of the Woodbadge course staff for Section N7-333-12. He currently holds Red Cross Lifeguard certification, as well as First Aid and CPR for the Professional Rescuer.
Chef - Sean Wilson
H
ailing from Hudson county New Jersey, Chef Sean Wilson's culinary career began at an early age and remembers making caramelized apples for his grandparents when they would visit. Growing up in the shadow of lower Manhattan, food was prevalent in his upbringing:
"I always asked my dad where we were going to eat when we went on a 'road trip' for the day with my brother and sister. Sometimes it was fancy but most of the time it was just plain good food - that's what people need to realize nowadays: good food is good food, whether it's fancy or not."
A new American approach to clean eating has given Chef Sean the opportunity to change lives one bite a time. Weather cooking for students in various New Jersey Public Schools or rock stars in the Hampton's, Chef Sean's menus and culinary nuances are sure to please.