BUILDING CONNECTIONS LEADERSHIP RECEPTION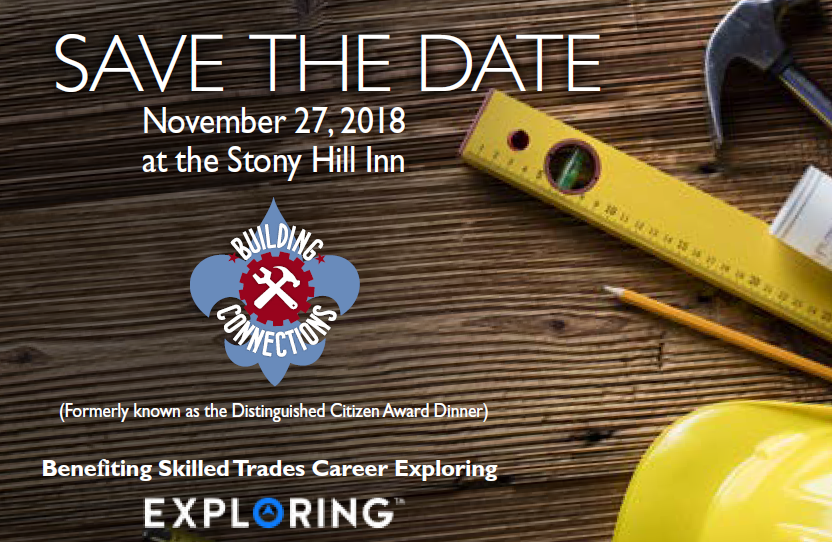 Tuesday, November 27, 2018, 7 – 9 p.m.
Stony Hill Inn, Hackensack, NJ

REGISTER HERE FOR THE EVENT!
EVENT CONCEPT: The purpose of the "Building Connections Event" is to increase community awareness about the need to build up the future skilled trades workforce in our region and to raise funds to support local career exploring programs. The event chairman and committee invite their friends, family, vendors and business associates to attend a fun, social gathering with a brief program highlighting the Career Exploring program, award presentations and remarks from council leadership.
THE COMMITTEE MEMBERS RESPONSIBILITIES:
Understand the importance of value-based youth development programs like Career Exploring in the life of young people.
Solicit high level sponsorships for the event.
Identify 15-20 guests to attend the event – "fill a table". The staff advisor will work with you and the other table hosts to coordinate lists and avoid duplication.
Provide a mailing list weeks prior to the event. (8 to 5 weeks out)
Send personal invitations to your guests.
Personally, follow up with guests to confirm their attendance.
AWARD NOMINATIONS:
George Meany Award

: a national recognition approved by the AFL-CIO Executive Council, in partnership with the Boy Scouts of America to an adult union member who has made a significant contribution to the youth of their community through Scouting.

The North Star Award

: a recognition for individuals (non- registered Scouter) for distinguished service to local Scouting. This award is on par with the Silver Beaver Award, the highest honor a registered Scouter can receive from a local council.
______________________________________________________________________________________________
Workforce Development Task Force Member Agreement
A strategic task force of top leaders in the construction and manufacturing industry is being established to inspire young adults in northern New Jersey to pursue a career in a skilled trade. The purpose of the task force is two-fold: to recruit and train a future skilled trades workforce and to raise funds necessary to deliver that program. The goal of the Northern New Jersey Council is to create key partnerships with community businesses and corporate leaders that share a common focus of Workforce Development.
The Workforce Development Task Force members are selected and elected as a member at large of the council because of their ability and influence to support and grow local Career Exploring programs that will engage young men and women in the Bergen, Essex, Hudson and Passaic counties.
Agreement Expectations:
Advise

the Executive Board on ways to better serve the youth and our communities within the council's strategic platform.

Invest

in local Scouting's vision by recommending a senior member of your executive team to serve as a Career Exploring Advisor.

Advocate

for opportunities where local Career Exploring can be a community partner for change. Promoting youth to pursue skilled trades careers.

Engage

other community leaders to invest their time, talent or treasure to grow the Career Exploring program.
Scouting's Promise to You:
Listen

to recommendations and advise that you provide to move the Scouting strategic platform forward.

Mobilize

to bring business and community leaders together to help young people reach their full potential.

Respect

your time, availability and resources when provided to maximize output to Scouting and the community.

Deliver

character-building experiences and mentorship that allow youth to achieve their full potential in both life and work



Meetings: Task Force members are asked to attend one annual gathering and bi-monthly 30 minute conference calls to keep working towards goals. Members are welcome to attend meetings of the Executive Board.