When Floodwood comes to mind, canoeing the beautiful lakes of the Adirondacks is usually the first thing one thinks of. However, the High Peaks have been overlooked by so many who have ventured to the Adirondacks. Floodwood also offers the possibility of setting out on hiking expeditions through the surrounding area and New York?s tallest mountains. Very few treks have taken advantage of this great opportunity to explore the beautiful peaks. You will get to see some truly awe-inspiring landscapes and experience nature in its prime untouched state. By embarking on a High Peaks trek, you will get to experience some of the most rugged mountains on the east side of the Mississippi River and get to summit many peaks, including Mount Marcy, New York?s highest point at 5, 344 feet. These treks will be very strenuous and physically demanding, and we suggest a series of tough practice hikes before arriving at camp.
Adirondack LOJ

5 Days (Rugged)

Day 1 (5.5 miles)

Get dropped off at the Adirondack Loj, southeast of the town of Lake Placid. From there, hike in to Marcy Dam. You can set up a base camp here, but it tends to be very busy, and has a problem with bears. We recommend you push on to the group of shelters just south of Lake Colden and set up base camp there.

Option A (11 miles)

Day Hike

Head west of Lake Colden, towards Iroquois Peak, continue beyond it and then head south towards Indian Pass. Follow south until you hit the cutoff trail to Calamity Brook, and hike back north to base camp.

Option B (8.5 miles)

Day Hike

Head north and west of Lake Colden and go up Boundary Peak. Continue on to summit Algonquin Peak, Wright Peak and Whales Tail Mountain. Hike back down to Marcy Dam. Follow your route from the first day back to base camp from there.

Option C (10 miles)

Day Hike

For experienced and fit treks, head south and east from Lake Colden, paralleling Opalescent Brook, and then jog north to pick up Feldspar Brook. Continue on past Lake Tear of the Clouds and then turn north and hike Mount Marcy, the highest peak in NY. Continue on and over Little Marcy and then head towards Indian falls. From here, head back towards base camp either by way of Avalanche camp or by going over Colden Mountain. Adding Haystack and Skylight, in addition to Marcy, is also another option requiring an additional 4 miles. This is a long, hard day hike, and should not be attempted by a younger or an inexperienced crew.

Option D (12 miles)

Day Hike

Hike east of Lake Colden, and head up Mount Colden. From there continue north and east until you pick up Phelps Brook. From there head up Phelps Mountain, come back down and head for home via Marcy Dam.

Day 5 (5.5 miles)
Hike back out to the Adirondack Loj for a pick-up via Marcy Dam

Trek Summary!!!!
This trek will take you into the heart of the Adirondacks. Your first day of travel will lead you through some beautiful land formations, especially Avalanche lake. Here a half mile stretch of water gives rise to enormous cliffs along both shores that tower several hundred feet above. It is truly awe-inspiring as you walk along bridges built into the cliffs in order to travel past the lake. Option A will take you on a scenic hike through the Adirondacks and through a cool little mountain pass. It is fairly easy and will be a warm up for the next days hike. Option B will take you along part the Maclntyre Range, one of the tallest in the Adirondacks. The hike up will be difficult as it is close to 3,000 feet in vertical gain over a 2.5 miles stretch of trail. However, once you reach the top, traveling will be much easier since the trail runs along the ridge of the mountain chain. From the top you will descend the rest of the trip back to Marcy Dam where you will once again have to pass through scenic Avalanche lake to get back to base camp. Option C give you a change to experience views from the other half of the park. The route is fairly easy because the elevation does not increase at such a high rate, except for summiting the last stretches of trail to the top. This can easily be accomplished in one day if you start early and move at a decent pace. All of these peaks are among the top 10 highest in New York - a great accomplishment! Option D is another great day hike to complete. It will take you up Colden, which is a difficult climb but the majority of the trail is rock slabs which does make travel exciting and fun. As you continue to Phelps, you will pass Indian Falls, a wonderful set of waterfalls, where you can take a refreshing break and enjoy the views. After summiting Phelps Mt. you'll head down the trail to Marcy Dam. The trail follows a stream down where pools of water form - this is a great place to take a refreshing dip after a long day of travel. This is a great trek if you want to enjoy the beauty of the Adirondack Mountains.

Johns Brook LOJ

5 Days (Rugged)

Day 1 (6.5 miles)

Get dropped at the Garden, just west of Keene Valley and head southwest up Johns Brook. Pass Johns Brook Lodge and head for Slant Rock where you can set up base camp.

Option A (6.75 miles)

Day Hike

Head south out of Slant Rock, and then cut west towards Mount Marcy; include Little Marcy on your way up if you are experienced and ambitious. Hike Mount Marcy and continue southwest towards Four Corners. From here, you can hike to Lake Tear of the Clouds, Mount Skylight, or head east towards Panther Gorge. Turn back north and head over Mount Haystack, and then Little Haystack and make your way back to base camp. This day hike is strenuous, and can easily be broken into two separate day hikes, doing the western portion including Mt. Marcy on one day, and the eastern portion including Mount Haystack on the other.

Option B (10 miles)

Day Hike

Head south and east from Slant Rock along the Shorey shortcut, and then cut north and east towards Basin Mountain. Continue on to Saddleback Mountain, Gothics, Armstrong Mountain, Upper Wolf Jaw and then cut west and head back down to Johns Brook Lodge. From there, head back up the valley to base camp.

Option C (8.5 miles)

Day Hike

Take the Shorey short cut south and east from Slant Rock, and pick up the trail east of the Haystacks towards Upper Ausable Lake. Head down Crystal Brook, hike along Upper Ausable Lake, and the back towards camp the way you came.

Option D (10 miles)

Day Hike

Head south and east from Slant Rock along the Shorey shortcut, and then cut north and east towards Basin Mountain. Continue on to Saddleback Mountain and Gothics. Head down Gothics the way you came up and continue south east to pyramid peaks and over to Sawteeth. Go back the way you came to Slant Rock.

Day 5 (6.5 miles)
Hike down the valley, past Johns Brook Lodge back out to the Garden for a pickup.

Trek Summary!!!!
This again is another great high peaks trek. This one focuses more on the Eastern part of the Adirondacks, whereas the Adirondack LOJ trek focuses more on the Western part of the Adirondacks. This trek provides a higher degree of seclusion from other hikers. The Western part can see a lot of trail action and the East usually receives less. Option A provides a good solid day hike, hitting up the highest peak along the way. Once Marcy is accomplished you can easily do three other peaks all within a mile and a half (Gray Peak, Skylight, and Haystack). Again you can break this down into two days and do two of the four peaks or if your ambitions do all of them in a day. Another neat thing to do is hike down to the Uphill Brook Lean-to area and check out the many gorges and waterfalls. Option B is a very scenic hike. This day hike will take you along the Great Range which many people consider to be the nicest of all the ranges in the Adirondacks. The views are especially nice on a clear day. Gothics will be a challenge of any hiker, as they provide you with ropes bolted into the rock to help with the ascent. Once at the top though, the views are fantastic (views from Gothics are ranked # 1 out of all the peaks!!) Option C is a fairly easy day hike with a nice section of trail that takes you down to Upper Ausable Lake. This lakes isn't too exciting and it's suggested you head for Lower Ausable Lake where you will find some absolutely breathtaking views. Option D Takes you through the same thing as option B, but cuts off Armstrong and Upper Wolf Jaw and adds Pyramid and Sawteeth, which give you another perspective of the Great Range. Another option not listed is to move base camp from Slant rock to Fish Hawk Cliffs/ Indian Head on day 3. This requires a harder push with full packs over the great range and down into Lower Ausable Lake. This will be a hard day, but you will get to see an absolutely gorgeous part of the Adirondacks and give you a chance to hike other peaks like Colvin, Blake, Nippletop, and Dial. If you decide to do this, you can be picked up at Saint Huberts instead.

Extreme Adventure!!!

5 Days (Very Rugged)

Day 1 (4.5 miles)

Get dropped off at trailhead near Ausable Club House. Hike into Lower Ausable Lake Area. Set camp Near Indian Head and Fish Hawk Cliffs or at Elk Pass which is preferred.

Day 2 (12 miles)

Day Hike

Hike south and up Mt. Colvin and Blake Peak. Backtrack to the trail intersection for Blake and Nippletop. Take right at intersection and continue past Elk pass and up to Nippletop and Dial Mt. Head back to camp at Elk Pass or Indian Head/Fish Hawk Cliffs.

Day 3 (9 miles)

This long day requires getting up bright and early to enable the most amount of time. Travel down to Lower Ausable Lake and take the trail that follows Cascade Brook up to the Pyramid and Sawteeth intersection. Take a quick detour to Sawteeth and head back for Pyramid Peak. Continue up Gothics and down to Saddleback and Basin. From Basin take the shore shortcut trail and set up camp at Slant Rock.


Day 4 (11 miles)

Head south towards Mt. Marcy. From Marcy, there are two possible options. (1) Continue going down the south side of Marcy over to Mt. Skylight. After accenting and descending skylight, follow the trail down to Lake Colden. (2) After summiting Marcy, descend the north side heading towards Little Marcy and then check out Indian Falls. Take the shortcut route heading towards Arnold Lake. At Arnold Lake take the trail to the summit of Colden. Descend to Lake Colden. Camp here for the night.

Day 5 (5.5 miles)

Head out to the Adirondack LOJ passing scenic Avalanche Lake and Marcy Dam for pickup

Trek Summary!!!!
This is the ultimate high peak adventure that encompasses both the Western and Eastern part of the Adirondacks. It will, with out doubt, be a tough trek to complete. The benefits of this trek though are the wide range of areas you will get to travel though. You will clearly notice the changes in environment as you pass from the Eastern to Western part of the Adirondacks. You get to view the many different ranges from all different angles and your scenery will change day to day as you live out your trek. If you are looking for an experience that will challenge you in all ways and want to leave Floodwood and the Adirondacks a changed person, this is the trek for you.
Northville-Placid Trail

5 Days (Rugged / 50 miles)

Day 1

The start of the Northville Placid Trail is a single, narrow path. Hike in about 5 miles, and you will cross a bridge. Another 2 miles along is a side path to Wanika Falls, which is a ?can?t miss? stop on this northern portion of the trail. Moving on another 2 miles is Moose Pond lean-to with a great view.

Day 2

Your group will travel some of the most beautiful sections of the Adirondacks, the trail remains narrow for another 3.9 miles until you reach Duck Hole. This is a great place for your group to be able to fish or just stand under the spillway. The trail opens up and views are excellent; after another 8 miles you reach Ouluska Pass lean-to and the Cold River. Camp here for the night.

Day 3

The trail remains open with great views of the Cold River and the McIntire Range. Along the way you will encounter beaver dams and bogs and pass through the City of Cold River, population of 1. This is where the hermit Noah John Rondeau lived for 21 years as the Mayor of Cold River. As you continue on, and depending on the season, some parts of the trail could be submerged requiring you to bushwhack or roll up your pants. Soon after you reach Plumley?s Landing on the north end of Long Lake.


Day 4

This is a short hike of 5 miles; set up camp for lunch and then hike 3 miles to Long Lake for a swim at the public beach. After a swim at Long Lake, hike back to Caitlin Bay.

Day 5

Wake up, break camp, and hike back to the Town of Long Lake for your pick-up.

Trek Summary!!!!

This trek is very beautiful but is also very remote, for most of this trek the hiker is more than 10 miles from any road. The 50 Miler and Leave-No-Trace Awareness award can both easily be earned.
High Peak Views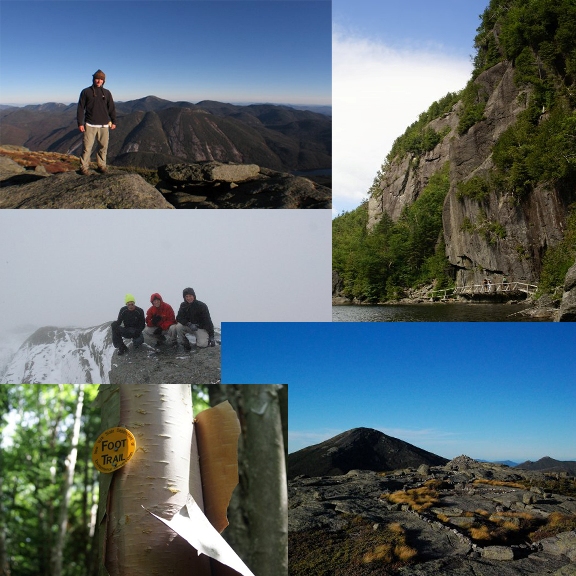 ---
Page Created by Kurt Von Weisenstein
---